At Fluid Pipe Relining were about fixing the problem, not the symptoms. Age, tree roots, cracks and breakages are common causes for pipe damage that can be solved and permanently repaired using pipe relining technologies.
In the past if you needed your pipes replaced it required the pipes to be dug up and replaced. A costly exercise paying for the digging and the replacement, not to mention the cost of putting your landscaping back to how it was.


New pipe relining technology allows pipe relining specialist like Fluid Pipe Relining to repair pipes without the need to dig.
Relining to repair pipes without the need to dig. Broken or leaking pipes are relined with a new and stronger pipeline, all without the need to disturb your garden and other areas of your property.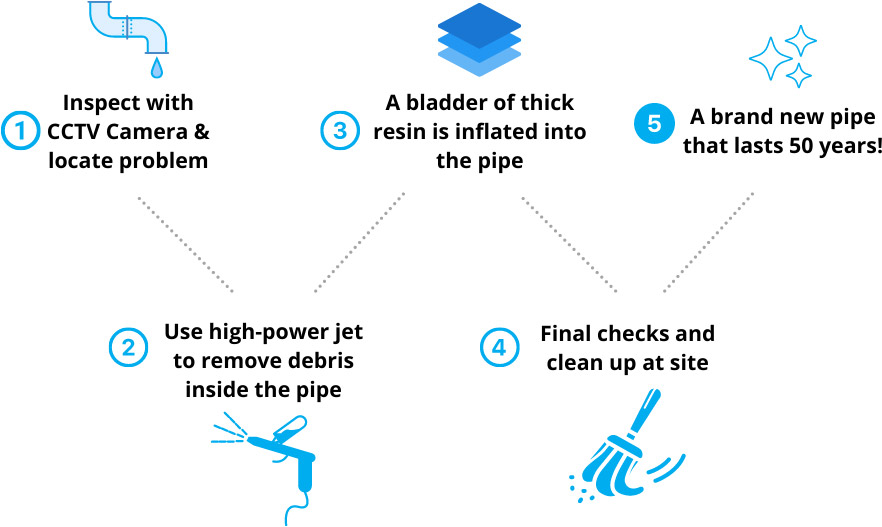 Step 1
Our highly qualified team feed a robotic camera into your pipes to inspect the pipes and locate the problem. At Fluid Pipe Relining we use the latest in CCTV cameras to inspect the pipes and locate the problem, be it a blockage or damage to the pipe itself e.g cracks etc
Step 2
Our high pressure jet will clear the pipes of any waste, grease, debris, or tree roots that have built up over time.
Step 3
Now comes the actual 'relining', a bladder that is covered in a thick resin is inflated in the defective pipe, pushing the resin against the pipe wall. The pressure in the bladder is maintained until the resin sets and dries.
Step 4
Finally we use our cameras to inspect the new pipework and ensure all areas have been repaired. Our CCTV footage allows us to show you your pipe work before and after relining so you feel confident in the results. Our clean up policy will make sure any areas we have worked will be returned to their original states.
Step 5
You have a perfect new, watertight pipe within the old one, which has a life expectancy of up to 50 years.
Pipe Relining is the best solution to all of Sydney's piping problems.
Developed in Germany Brawoliner is the world leader in pipe relining technology.
That is why we choose to exclusively use Brawoliner for all of our pipe relining jobs. We use quality materials because we believe that pipe relining should be a long lasting solution to your problems. Because we are so confident in our product and our work we offer a massive 35 year guarantee on all work carried out. In addition all Brawoliner products have a 50 year life expectancy.
BENEFITS OF PIPE RELINING

Pipe relining technology creates a permanent fix, not a temporary repair.

Landscaping at your property won't be affected as no digging is required.

It is cheaper, faster and more efficient than traditional pipe repairs.

30 year guarantee on our work

50 year life expectancy on the relining material.

30 year guarantee
on the pipe lining system installed in the areas of pipe worked on by Fluid Pipe Relining.
We will repair it for FREE
If an issue arises in the 30 years that is an error in the installation of the pipe relining done by Fluid Pipe relining we will repair it for FREE.
FREE inspection
inspection if you think there is an issue with the pipes we have relined.
We only guarantee our own work
If you have had work done on the pipes we relined by another plumber our warranty does not stand. Please call Fluid Pipe Relining if you think there is an issue.